A bit of history

Mark and David founded Westcote Design in 1991 and have over 85 years of experience between them. Both of them have worked in both small local businesses and the larger national sector over that time, so have a real breadth of experience as well as depth.

Originally based in Milton-under-Wychwood, Oxfordshire, we later moved to the outskirts of Kingham to grow the business. Since then, we've moved again to the centre of the village so we could open up a showroom to exhibit our wares.

We're local through and through and proud of it, but we also serve a wider area of the country including a large area of London, and regular deliveries to Taunton and Cornwall. We have customers in Oxfordshire and Cheltenham, and our client base mainly consists of contract furnishers, architects, and interior and product designers. That said, we're also happy to hear from private clients who wish to either come and choose a new piece of furniture or have their existing furniture re-upholstered.

Why choose Westcote Design?

So, why choose Westcote Design? Well, we hope that our experience speaks for us. We've been around for more than 25 years, serving customers in Oxfordshire and beyond. So you can be sure you're going to get a product you're happy with.

We use only the highest quality materials too, so you can rest assured that your furniture is going to last long into the future, no matter how often it's used.

Our expertise isn't just in manufacturing furniture, but also in design. We can give you advice and guidance on furniture design, so you can pick the best sofa, armchair, or chairs to suit your home. Or, if you can't find anything that quite suits your needs in our catalogue, we're happy to discuss creating bespoke furniture in Oxford for you.

Finally, we do nationwide delivery, so no matter where you are, we can get your new furniture to you quickly and safely. We deliver all day from Monday to Saturday too, so you can pick a time that's convenient for you.

Our re-upholstery service

You might not be in the market for a new piece or suite of furniture. You might instead want to breathe new life into something you already own. We offer an expert re-upholstery service to reinvent your old furniture. We can re-upholster both pieces of furniture we've previously sold and older pieces as well.

If you have any inquiries about our furniture reupholstery service, please do get in touch!
Meet the team
From frame makers and designers, to sewing machinists and upholsterers – we have the full suite of expertise right under one roof.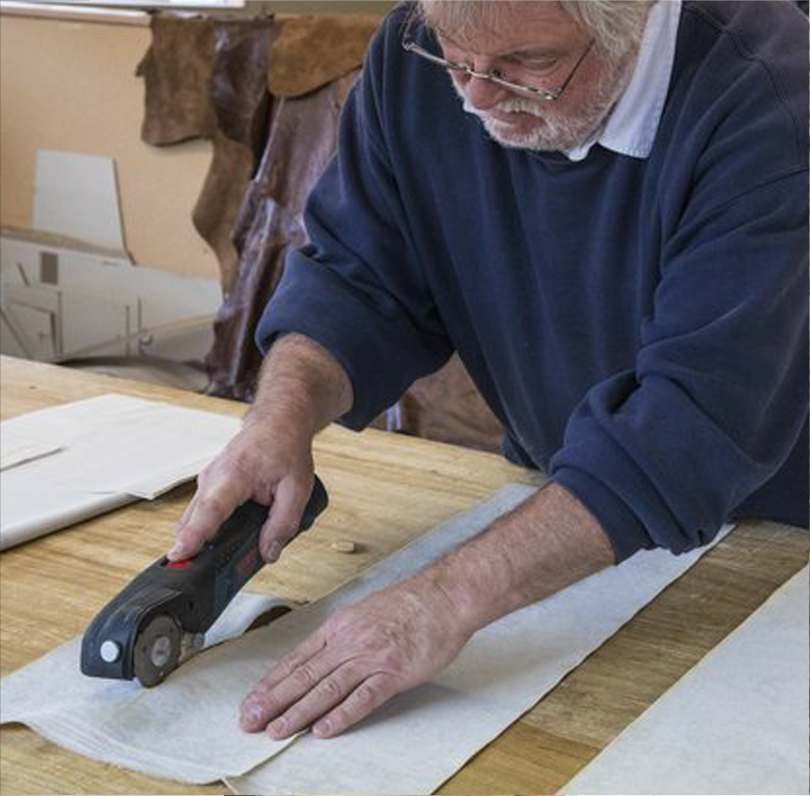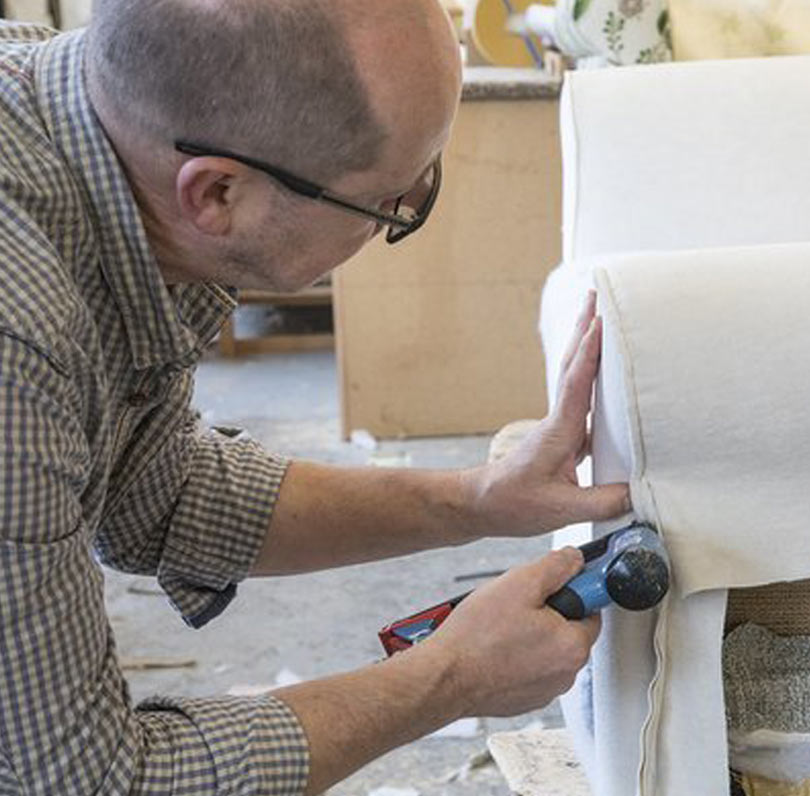 James Harwood

Upholsterer

Philip Farmer

Upholsterer and Frame Maker

Debbie Prestidge

Accounts Manager
FAQ Section
Do you have a showroom that we can visit?

Yes, we have a showroom in Kingham, Oxfordshire that customers can visit to view our collections and discuss design requirements. Weekday visits are by appointment only – please ring to arrange a suitable time. Visits on Saturday can be made without an appointment between 10am and 4pm.

Do you manufacture just sofas and chairs?

No, we manufacture a wide range of interior accessories including headboards, footstools and even folding screens.

Do you re-upholster sofas and chairs?

Yes, we are happy to re-upholster all styles of furniture both traditional and contemporary. Find out more about our

Do you sell sofa beds?

Yes. We make four sizes of sofa bed for most models in every collection.

What quality is the sofa bed action and mattress?

We use a Sedaflex metal two fold action with a wooden slatted base, together with a choice of 10cm spring interior, pocket sprung or memory foam mattresses. We also offer a contract quality action and mattress for more frequent use. This incorporates a 12cm spring interior mattress.

Do you deliver?

Yes we have our own team and we deliver mainly in the Mid and Southern Counties including a frequent run into London and surrounding area where we have a regular client base.

Do you specify fabric or can we choose?

We are entirely flexible on your choice of fabric. Although we carry a vast choice of fabric options, we are also very happy to work with the clients' choice. We can supply you with the quantity required, dependent upon individual patterns.

What cushion fillings are available?

We have a wide variety of cushion fillings available, including Soft duck feather, Fibre and Foam core with a feather or fibre jacket. Each sofa is tailored to your individual requirements.

How do you deliver furniture that does not have standard dimensions?

If you provide us with the dimensions of your entryway, we can determine whether your furniture will fit through the door or corridor. If access is tight, we have a number of options open to us. Bolt on arms and a split frame are just two alternatives.

We would like a specific piece of furniture but we're interested in different sizes and specifications. Is this possible?

Yes! Anything within our range can be custom made to match your dimensions. Alternatively, we can produce commissioned pieces, built to your design and specifications.
Our Collections
Westcote has been making bespoke furniture in Kingham for over 25 years. We have 3 unique collections, each with their own distinguishing qualities. We are flexible in our approach and are able to offer advice on all aspects of the design based on extensive experience in the trade.
View Collections
Over 40 collective years of industry experience
Expert furniture design advice and guidance
Bespoke furniture designed to fit customer needs