Furniture is a significant part of any home. It's not only necessary for comfort and function, but it also contributes to the overall look and feel of your living space. When furniture is outdated or just doesn't quite fit in with the current style of your home anymore, it can disrupt your interior design.
And in a world that's constantly moving forward and updating, it can be tough to keep up with the ever-changing trends – especially when it comes to interior design. So if you're dealing with furniture pieces that are tired or outdated, don't worry, we've got you covered. In this blog post, we'll discuss furniture restoration, including simple tips for modernising old furniture and giving them a new lease of life.
5 Ways To Modernise Old Furniture
There are many ways to modernise old furniture. One of the most popular options is furniture reupholstery, which can be done in a variety of styles and designs. 
Reupholstering a worn sofa: This is a great way to freshen up your living room and give it a new look. Sofas are pieces of furniture that are always in use, so they can quickly become worn. Reupholstering them can breathe life back into your sofa as well as give your living room a style overhaul. You could choose a different fabric and a new colour to give your living room space a brand new style.
Reupholstering an old chair: Reupholstering chairs can also breathe life back into them and give them a whole new look without the cost of buying new furniture. As a chair is less conspicuous in a room, you could choose bolder colours or statement / accent prints to create stylish focus points in your room and compliment your more muted sofa colour.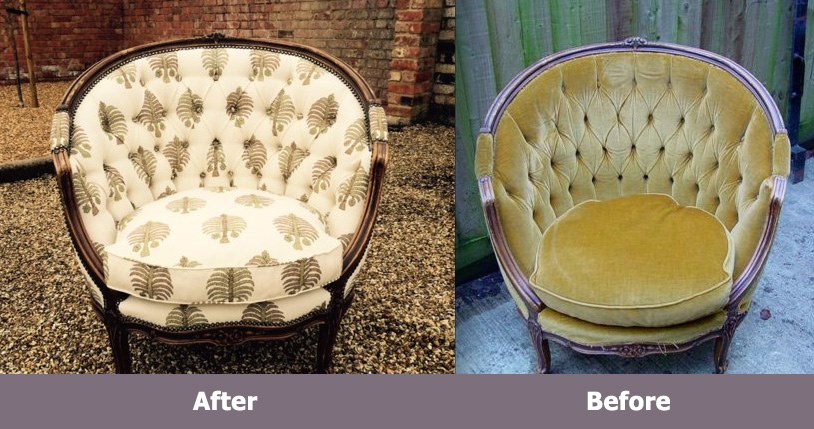 Reupholstering a headboard: Headboards can often look plain and not very stylish. Reupholstering them in a new fabric can update the look of your whole bedroom without having to break your budget. You could also add more padding to the headboard to make it more comfortable.
Reupholstering an old ottoman: Ottomans can quickly become outdated, but they are a great way to add some extra storage space to your home. So why not reupholster your old ottoman in a bright, bold fabric for an eye-catching look? It's a quick and easy way to add modernity to your room without having to do any major work.
Changing furniture legs: It's easy to change furniture legs during the reupholstering process, so why not switch them out to give your piece of furniture a completely new look? This is a great way to help modernise your furniture, particularly with so many modern leg designs and materials available in today's market. You could remove existing valances or fringing to allow for the existing or new feet to shine through.
Reupholstery is a quick and easy method of changing the appearance of your furniture without having to do major renovations. However, it's recommended that you use a professional to do this job as furniture renovations are tricky. Reupholstery is a meticulous process that requires a lot of skill. 
At Westcote Design, we provide complete furniture reupholstery services and have the experience and expertise required to do a perfect job, so you can be sure your furniture will look beautiful and last for years to come.