1. Care for your Fabric
It is essential to understand the best way to care for each particular type of fabric. Don't assume that one sofa, for example, will have the same care instructions as another. If the instructions with a particular type of fabric are unclear, do not risk using any cleaners you have not checked out the suitability of. It is best to learn how to care for your furniture fabric otherwise you could end up ruining it. Spot cleaning is generally not recommended and it would be advisable to instruct a professional to clean the whole piece in situ.  Arm caps are considered a good idea as you could just wash these without risk of spoiling the look of the sofa.  Generally, a cold or lukewarm wash is better to retain the colour and if you have a washable fabric as a loose cover, always put back on whilst still slightly damp to avoid the shrinkage.
Furniture restoration is an idea worth considering. Sometimes a piece of furniture will have defects that a quick clean will not fix. Instead, at times, it will be better to give the item a complete 'going over.' This could involve changing the fabric to a completely different style than before, refreshing the piece considerably. Damaged legs can be restored by a French Polisher and broken springs can be fixed, generally without reupholstering the complete piece.
3. Re-upholstery
If you have some furniture that is still standing but needs more than just a little TLC, re-upholstery can be a way to restore your furniture. It means you can repair the defects but still keep a loved piece going for potentially a long time to come. Essentially, it allows you to retain the style and comfort of the furniture that you fell in love with it in the first place, whilst extending its life. Sometimes, a replacement of cushions is all you will need to give a tired chair a new lease of life.
And this is not just about changing the fabric. If you know what you are doing, or want to use the services of someone who does, the actual framework of the furniture can be repaired and reworked to an excellent level of restoration.
4. Clean Regularly
In some ways this may be an obvious step, nonetheless, it should not be overlooked. Regular cleaning (regular not 'over') will help to keep your upholstered furniture in good condition for longer. By cleaning you can remove dirt, dust, and other unpleasantness from the surface of your furniture, which builds up surprisingly fast. The quicker you tackle the grime the more chance you have to prevent build-up and finding its way to becoming embedded into the fibres of the fabric.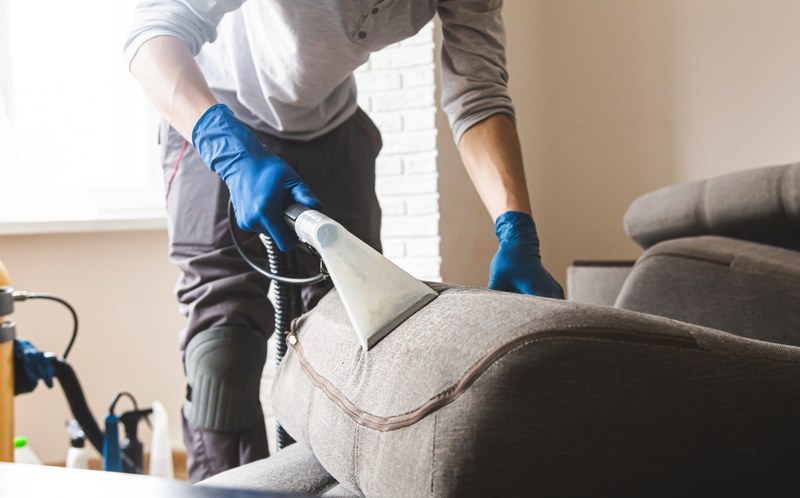 5. Treat Your Furniture Well
Another way to care for your furniture is by treating it the way it deserves. For example, be careful where your furniture is positioned, as if you place in direct sunlight the fabric can end up fading. If you are unable to move furniture, or you must have it in that exact spot, having blinds or sheers to filter the light will help protect it. Also, avoid a dark fabric if the piece is exposed to direct sunlight such as a conservatory as this will be more noticeable than neutral tones.
The takeaway here is that the more you care for your upholstered furniture, the more chance you have of it living a longer life, keeping its original look and staying a beloved piece in your household. If you would like to find out more about how we can help you, give us a call today on 01608 659 091 or head over to our contact page for alternative methods of communication.