Often enough, furniture can be passed down from family members or you could find a second-hand option that you fall in love with and must have. However, there are times where these standout and loved pieces fall out of style and potentially clash with a home, or become worn and tired and therefore need updating and revitalising. 
Reupholstery can bring any piece of upholstered furniture back to life and create a new style that suits you and your home, allowing you to keep your loved upholstered furniture.
What is reupholstery? Furniture reupholstery uses new or different fabric or materials to repair or update the look of a piece of furniture. 
This blog will touch on the various benefits of reupholstery as a practice, particularly as it relates to the following aspects:
 Cost 

 Personal taste 

 Personal value
Let's take a closer look at each of these. 
Reupholstery Costs 
Furniture is expensive, and finding a similar piece of furniture you love in a shade that would match the colour scheme or style of your home would either be very difficult to locate at all or else cost far more money than you would want to spend. Go to the local furniture reupholstery specialist and have a piece of your preferred fabric measured and cut to fit the furniture. This process not only costs significantly less it's more widely available. 
Reupholstery Adds Personal Taste 
The art of furniture reupholstery allows you to not only have a furniture piece that's essentially brand new but one that is in a colour or pattern that fits your style. After all, how much more satisfying is it to know that you've turned something ugly or less useful into the exact thing you've always wanted, on a budget and with a limited amount of effort and supply? Answer: Much more satisfying.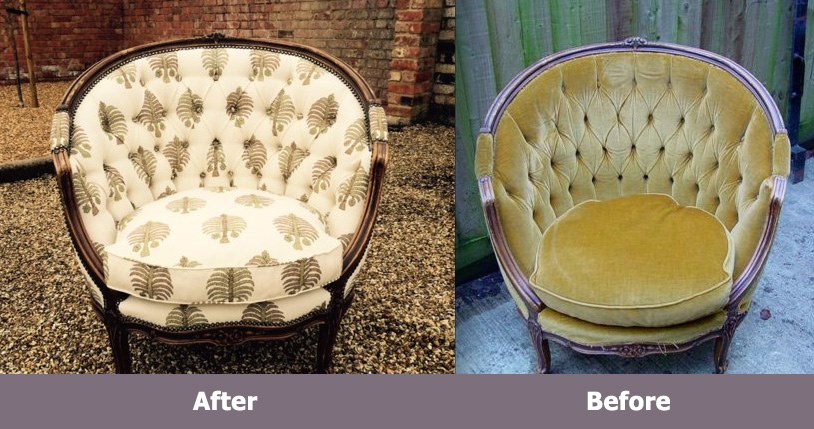 Reupholstery Adds Personal Value 
As previously mentioned, furniture can often be passed down to family members. While this is a great deal, the colour or style may not be sought after and the piece has a personal value attached to it which is why it is kept. The intrinsic value attached to passed down furniture makes reupholstery a great option. 
Breathe new life back into old fabric through reupholstery and revitalise furniture that once looked old and tired.
Environmental Benefits of Reupholstery  
There is a bonus to be found in furniture reupholstery – having a positive impact on the environment. That's right, not only are you breathing life back into a piece of furniture by fixing it up, you're also breathing life back into the planet by keeping the piece of furniture out of a landfill. 
Undoubtedly, furniture reupholstery is proven to be a worthwhile effort, given the result is often something better than new. 
If you would like to find out more about our furniture reupholstery services, get in contact with us today on 01608 659091. Alternatively, you can visit our contact page to send a message.