In today's world of mass-produced bedroom furniture, it's easy to forget how much a custom-made piece of upholstery can improve your home. A bespoke material headboard is just one of the many unique items we can build for you to enhance your bedroom.
With the current stresses many people have, we think it's even more important that your sleeping area reflects your personality. The average person spends around seven to eight hours a night in their bedroom, so investing in bespoke upholstery is a good move and has many benefits.
Your Bespoke Headboard… Your Design!
Every single piece of bespoke furniture is unique, and that includes a headboard. Whatever design you have in mind, we can make it a reality.
You may want a much bigger or smaller headboard due to the unusual shape of the room. Some people want a feature added such as side tables with exact dimensions. We custom-make all our pieces, so they'll fit exactly the space you have.
Upholstery is another way of making a unique piece of furniture and there is almost no limit as to choice.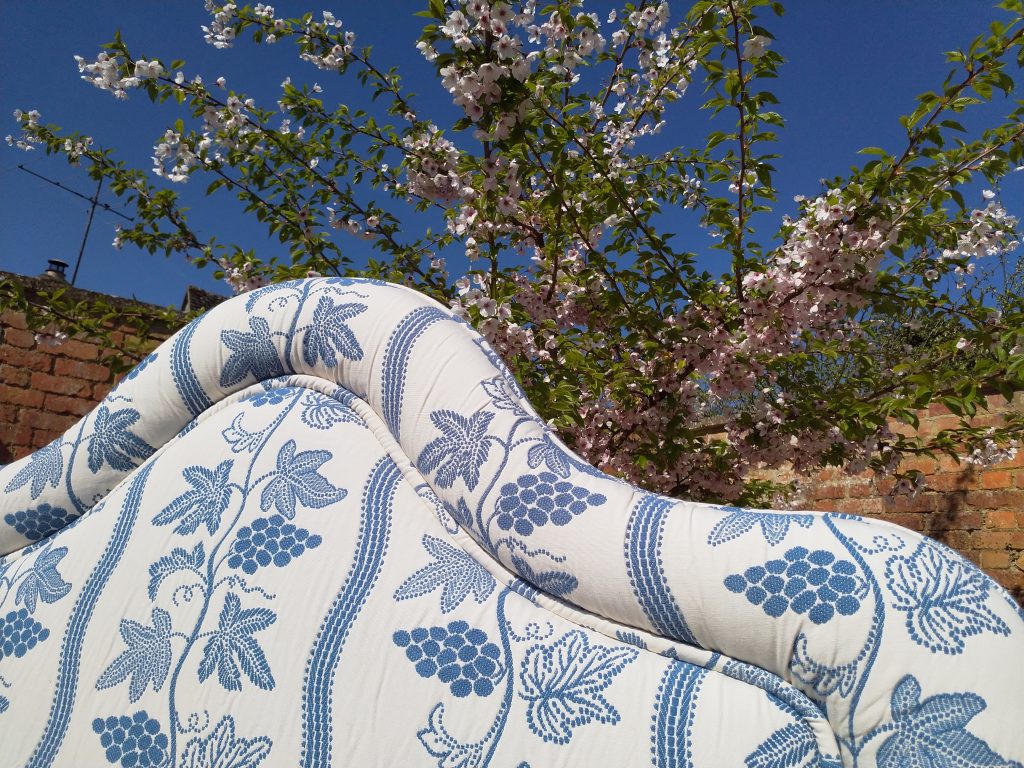 A Unique Statement Piece
When you look at a bed your eye is naturally drawn to the headboard. This is where design comes into its own and can make a bed stand out.
A bespoke headboard can turn your bed into a fabulous statement piece of furniture. Something unique to you and your personality.
Our team will work with you to make sure you get a headboard you'll be proud of.
A Wide Choice of Upholstery Fabric
With custom-made upholstery, there will be a wide selection of fabric to choose from. This choice can make such a big difference in how well your headboard fits in with the surrounding decor.
In the past, you may have seen a headboard design you liked in a furniture store,  but not bought it because the upholstery was unsuitable. Perhaps it was the colour, the pattern or even the quality of the fabric.
With bespoke upholstering, you get to choose the fabric from a much wider assortment of designs than you'd ever find in a general furniture store. In fact, the choice is almost limitless!
Bespoke Means Quality
Quality is high on the list of priorities for companies who custom-make furniture. There is a world of difference between factory-made headboards and a piece lovingly hand-crafted to your specification.
Of course, many factory-made pieces of furniture are built well. But, bespoke furnishings are made by highly focused experts who are heavily invested in turning out quality pieces. They'll go the extra mile to make sure you get beautiful bespoke upholstery.
Your Bespoke Material Headboard
There are lots of reasons why you might want a custom-made headboard.
You can impart your personality into your design and our team will make it a reality.
You will own a totally unique headboard. No-one else will have the same design as you.
We can't guarantee you'll get a better night's sleep… but you might! Each night when you climb into bed, you'll see your bespoke headboard. With its unique look and feel that reflects your individuality; we think there's no better way to end the day.
Thank you for reading our blog post. If you would like to find out more or commission bespoke furniture for your home, get in contact with us today at Westcote Design on 01608 659091. Alternatively, visit our contact page to fill out our contact form.