Our homes are our temple, so of course, we want to fill it with beautiful things that help our personalities shine! There is nothing quite like the feeling you get when a guest notices that one-of-a-kind item in your home that is unique to you. There are so many advantages to buying bespoke furniture, having a brand new item to feature within the space that you have chosen, designed, and sits perfectly within its designated place.  
Restoring a vintage piece can provide you with so much satisfaction and pride if you have the time to get the piece in the condition you want it to be. A restored item of furniture will no doubt become a talking point, it can lend itself as a great ice-breaker for any newcomers to your home.
Why Buy Bespoke Furniture?
Often, bespoke pieces of furniture are made with much higher quality frames and fabrics than more mainstream items, they have professional craftspeople working on them from start to finish who take great pride in their work so you can be sure that what you are receiving will have been made to the highest standard. You can fully tailor the piece, from the design, colour, fabric, to the overall size, and shape, with all details and processes being fully explained during the process.
By purchasing an item of bespoke furniture from a UK manufacturer you are also helping to keep the economy booming by supporting small businesses, this can also help to reduce carbon footprint with there being less transportation needed, as opposed to having factory-made furniture delivered.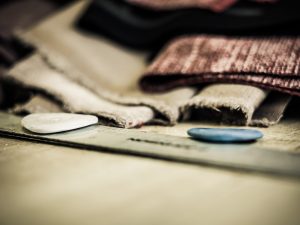 Why Buy Second Hand Furniture and Restore?
Purchasing furniture from a modern showroom or bespoke designer may be the easiest way to find the desired piece for your home. However, there is a growing market for second-hand furniture, it's no longer just an option for people working with a big budget thanks to the fantastic options out there. We have online companies like eBay to thank for the growing trend of recycled products. 
After all, one man's trash is another man's treasure! There is an abundance of superb craftspeople showcasing their abilities to restore almost anything within the Instagram and Tik Tok world. By reupholstering and upcycling furniture we are helping to reduce waste, not only by saving still usable furniture from going into landfills, but also by eliminating the need for excess packaging.
Reupholstery can also be a fantastic option if you are looking to redecorate but don't want to (or can't afford to) give up your existing furniture. It can revive tired-looking items and give them a new lease of life. Having furniture reupholstered can completely change the feel of a room, it's a great cost-effective way to reinvent how you feel about your home, without spending a fortune.
If you would like to find out more about creating your perfect bespoke furniture piece or would like to know more about our furniture reupholstery service, then please get in contact with us on 01608 659091, or alternatively, send us a message through our contact form.