Do you have an old couch or chair that you can't seem to get rid of? Maybe it's time for a furniture reupholstery project! Reupholstering furniture is a great way to give new life to pieces that are outdated or just look like they've seen better days.
So, exactly what is furniture reupholstery? It consists of removing the old fabric from furniture and replacing it with new fabric. This can be a simple process or a more complex one, depending on the piece of furniture and the condition it's in.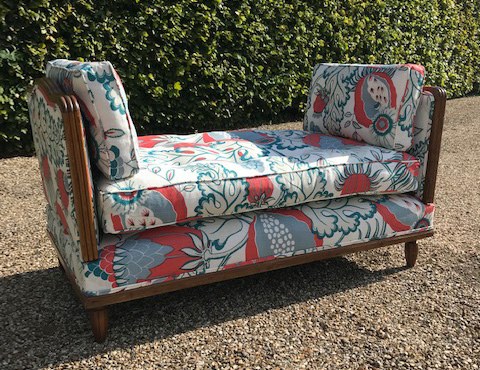 There are many benefits to furniture reupholstery, including:
– Giving new life to an old piece of furniture: If you have a piece of furniture that's been in your family for generations, reupholstering it can give it a new lease of life and make it look like new again. This means you can prolong the life of a piece of furniture and keep it in your family for years to come.
– Saving money: Buying new furniture can be expensive. If you have a piece of furniture that you love but is starting to show its age, reupholstering it can be a cost effective way to keep it looking good as new.
– Getting a custom look for your furniture: With so many fabric options available, reupholstering your furniture is a great way to add a personal touch to your home décor.
– Being environmentally friendly: reupholstering furniture is a great way to be eco-friendly. Rather than buying new furniture, which requires new resources and energy to produce, you can simply give new life to an old piece of furniture.
– Improving the quality of your furniture: Over time, furniture can start to sag or become misshapen. Reupholstering can help to restore the original shape and firmness of your furniture.
– Protecting your furniture: Furniture that's been reupholstered can last longer and withstand more wear and tear than furniture that hasn't. This means you won't have to replace your furniture as often, which can save you money in the long run.
Why Choose Westcote Design To Reupholster Your Furniture?
At Westcote Design, we have over 40 years of experience in furniture reupholstery. We're passionate about helping our clients breathe new life into their old furniture, and we take pride in the work we do.
We understand that each piece of furniture is unique and has its own story. That's why we take the time to consult with our clients and get to know their furniture before we start work. This way, we can ensure that the final result is something that they'll love.
Whether you're looking to reupholster a single piece of furniture or want to give your whole home a makeover, we're here to help. We can also create handmade furniture and upholstery to your specifications. Our expert team can advise you on the best fabrics and materials to use for your project, and we'll work with you to create a custom design that's perfect for your home.
To learn more about our furniture reupholstery services or to get a quote, contact us today. We'll be happy to answer any of your questions and help you bring new life to your old furniture.