With each year and season, comes exciting new design ideas. As we're heading into the winter of 2020 you may be wondering what interesting new trends are set to emerge? To help you think of some exciting interior design ideas, we've put together this blog on the best trends for winter this year.
Winter Interior Design Trends
Winter is all about feeling cosy and warm, despite the frost and cold outside your home. Every year interior designers find new and exciting ways to create this atmosphere. So what are the biggest trends we've seen this season? Here are some of the best design looks we've found this winter:
Rich Teals & Deep Blues
Dark and deep blues are big colour trends this winter. Classic blue is the Pantone colour of the year, so stylish and unique shades of blue have been popular all year. However, dark blue hues are perfect for adding a luxurious and calm element to your home's interior this winter.
This colour is best incorporated into your home through sofas, thick duvet covers, and heavy-fabric rugs. As well as deep, dark blues, rich teal hues are a big trend for interiors this winter. Teal is a luxurious colour that works with heavy fabrics and creates a unique winter atmosphere while adding a rich contrast that complements your home's statement pieces.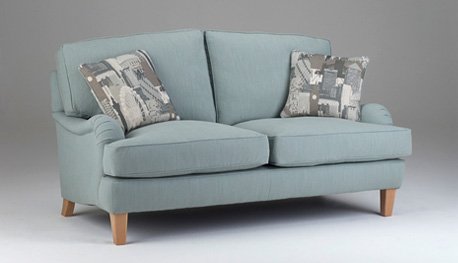 Simply Styled Bespoke Sofas
Minimalist sofas are a big trend this winter and can create a calming and comfy atmosphere. Stripped back bespoke furniture has been very popular throughout 2020, with rustic kitchen and bathroom fixtures being an element of this year's interior design trends. But bespoke sofas made with neutral-coloured fabrics can add a chill-out space to many homes.
Although neutral colour tones are always popular, in 2020, pops of colour have been seen more and more. Adding an on-trend colour to your lounge area to complement your neutral sofa can create an exciting and inviting look. Use throws, heavy-fabric blankets, or soft cushions to add a pop of colour in rich hues such as teal, burgundy, or dark, burnt orange.
Luscious Velvets 
If you're looking to adorn your bespoke furniture this winter, the fabric of choice would be velvet. It's luxurious and the perfect vehicle to add a pop of colour to a neutral-toned interior design. Velvet furnishings and metallic accessories can add a unique element to your interior design in the winter months.
The material has an undeniably extravagant look, but its tactile quality makes it unique. Velvet furnishings are as great to touch as they are to look at, which is why velvet is always a popular choice in the Winter months.  Adding tassels and fringing to velvet pillows and throws is also a great way to add a unique element to furnishings.
These are only a few highlights of the winter interior design trends this year. To get the most out of velvets and dark blue and rich teal hues, you need bespoke furniture that's made to measure for your home.
If you're interested in bespoke furniture to compliment your interior design this winter, get in touch with us today on 01608 659091 or send us a message via our contact page.